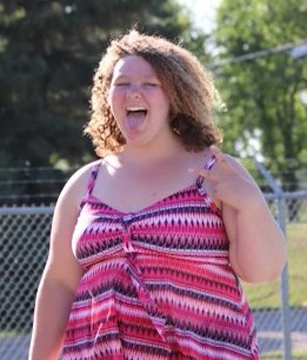 Katrina Grace Berenyi, known to her family as Katie, Katie-Bobby, and Curly, passed away peacefully on Friday, October 14th, 2022 with her parents and sisters by her side, after fighting a hard and courageous battle with cancer at just 18 years old. 
Katie was born on March 20th, 2004 in her hometown of Moose Jaw, Saskatchewan.  She loved to play video games, draw, read, and sing.  She spent her summers at Buffalo View with her lake family, where she was always swimming, hiking, or hanging out at the park.  For all her life, even throughout her illness, Katie always had a big smile on her face and a "positive vibes only" attitude.  
Katie is survived by her parents, Cheryl and George; sisters, Rochelle and MaryAnn; grandparents, George and Karen (paternal), and Wendy (maternal), and was predeceased by Grandma Maryann (paternal) and Nana and Papa (maternal).  Also left to mourn her are Katie's fur-babies, Pineapple and Brownie; boyfriend, Johan; and her loving aunts, uncles, cousins, grandparents, and friends – among so many others. 
Katie touched the lives of all who had the joy of meeting her and her memory will live on in the hearts, minds, and laughter of many. 
Special thanks to Dr. Sinha and the whole oncology team at the Jim Pattison Children's Hospital for fighting so hard for Katie, and for ensuring that her final moments were as comfortable and meaningful as possible.
A Celebration of Katie's Life will be held on Sunday, October 23rd, 2022 at 11:00 a.m. at Moose Jaw Funeral Home.  As an expression of sympathy, donations in Katrina's name may be made to the Jim Pattison Children's Hospital, 103 Hospital Drive, Saskatoon, SK S7N 0W8 or Ronald McDonald House Saskatchewan, 1011 University Drive, Saskatoon, SK S7N 0K4.  Arrangements are entrusted to Moose Jaw Funeral Home, 268 Mulberry Lane.  Michelle Ellis, Funeral Director 306-693-4550