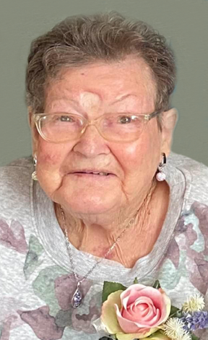 February 27th, 1931- January 22nd, 2022
Heaven gained an angel.  It is with heavy hearts we announce our beloved wife, mother, grandmother, great-grandmother, aunt, sister, sister-in-law, and friend, Marion Rose Benson went home to be with her Lord, and her parents Marion, and Leslie Kohl, on Saturday, January 22nd, 2022.   
Rose is survived by her husband of 70 years, Ronald Benson; children: Merna Steen, Dale (Lorrie) Benson, Marlene Benson, and Patty (Murray) Fernell; grandchildren: Michelle (Blaine) Drake, Kyle (Samantha) Steen, Colby Benson (Kirstin Granquist), Dwayne (Patricia) Wilcott, Bobbie Jo (Chad) Brett, Matthew Fernell, and Carson Fernell; great-grandchildren: Kari-Anne Drake, Tabitha Drake, Makayla Drake, Lukas Drake, Riley Steen, Kaaylan Benson, Jaymie Wilcott, Micah Wilcott, Eden Wilcott, Jacob Wilcott, Tristan Brett, Byron Brett, Gabriel Brett, and Mason Demyen.
A Celebration of Rose's Life will be held on Friday, January 28th, 2022 at 1:00 p.m. in Moose Jaw Funeral Home with Pastor Marvin Seaborg officiating.  In lieu of flowers, donations in Rose's name may be made to the Allan Blair Cancer Center, 4101 Dewdney Ave, Regina, SK S4T 7T1 or The Moose Jaw Humane Society, Box 1658 Station Main, Moose Jaw, SK S6H 7K7.  Arrangements are entrusted to Moose Jaw Funeral Home, 268 Mulberry Lane.  Gary McDowell, Funeral Director 306-693-4550