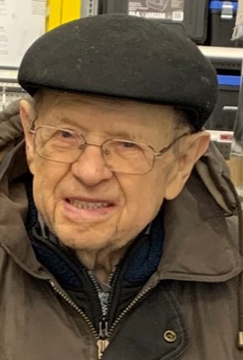 It is with deep sorrow and much love that we mourn the passing of our beloved Edward John Bengert of Moose Jaw, Saskatchewan on December 28, 2022 at the age of 91. He will be lovingly remembered by his wife Leona and her family from Moose Jaw and New Brunswick; brother-in-law Irwin Dauk and his sister Louise's grandchildren; nieces Joan Miller, Marina Thomson (Forrest), Mary-Lynn Miller, Laura-Lee Miller Coward (Tom), Goddaughter AnnMarie Bergeron, Joanne; nephews Gerald (Brigette), Pierre; great-nieces Claire Thomson (Corey), Stephanie Thomson (Justin), Jenna Sattler (Kelvin), Sarina Noftall-Miller, Emma Koleman-Miller, Christina Koleman-Miller; great-nephews Godson Matthew Thomson, Marc Miller, Nathan Miller (Meggie), Karl Miller (Deanne), Andrew Miller (Angela); and many great-great-nieces and nephews. 
Edward was predeceased by his parents Emma (Schergevitch) and Karl Bengert; sisters Louise (Bengert) Dauk and Celestina (Bengert) Miller; brother-in-law Harold Miller; and niece Claudette.
Edward Bengert was born on February 5, 1931 in Mankota, Saskatchewan. His passions were farming, music, dancing, singing, and traveling. His farmyard was beautifully cared for as he took great pride in it and in his farming practice. After retiring from farming he moved to Moose Jaw making his home and yard his sanctuary. His pride and joy was his home, garden, and car. Edward was dedicated to his Catholic faith in which he was a Eucharistic Minister and a member of the Knights of Columbus. His cheerful, polite, and vibrant character will be deeply missed as he brought much joy and laughter to everyone who knew him.
Funeral prayers will be held at the Moose Jaw Funeral Home Chapel on Friday, January 6, 2023 at 7:30 pm. The Funeral Mass will be held at Church of Our Lady, 566 Vaughn Street in Moose Jaw, Saskatchewan on Saturday, January 7, 2023 at 1:00 pm. In lieu of flowers, donations in Edwards name may be made to the Heart and Stroke Foundation of Canada 1200-2300 Yonge St, Box 2414 Toronto, ON M4P 1E4.  Arrangements are entrusted to Moose Jaw Funeral Home, 268 Mulberry Lane.  Gary McDowell, Director 306-693-4550