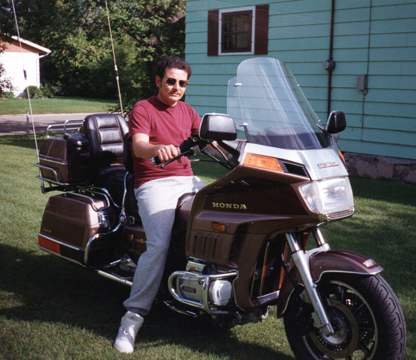 Victor "Vic" Michael Bender
Victor "Vic" Michael Bender passed away peacefully at St. Joseph Hospital in Estevan, SK on Tuesday, September 20th, 2022 at the age of 64 years.  Victor was born June 1st, 1958 in Woodstock, ON and grew up in the Tavistock, Holstien and Chepstow areas, helping with chores along with his 6 siblings until Arthur and Jean and the family, as well as Jean's brother Norm, moved to Saskatchewan in 1974.  The family settled in Arcola where Victor met Cathy Haddow and they were married in 1983.  They have a daughter and a son, as well as 5 grandchildren.
Victor was a long haul truck driver for most of his working career, travelling thru Canada as well as in to the USA.  Victor loved driving and took pride in his semi, even removing his shoes and putting on moccasins to keep his truck clean.  Victor loved to ride motorcycles and created many memories and friends on his travels.  Back injuries from years of trucking caused him to retire and lead a more sedentary life.
He was predeceased by his parents, Arthur and Jean (née: Roe) Bender; brothers-in-law: Benjamin Amosah, Alain (Zeke) Sauve and Keith Tatum; great-nephews, Terell and Deon Amosah; uncles, Stuart Bender and Norman Roe; many aunts and uncles; and grandparents: Rachel and Ervin Bender, and Wilfred and Ida May Roe.  Victor will be lovingly remember by his children, Michelle and Stuart (Robyn); his grandchildren; brothers and sisters: Terry (Edith) Bender, Brenda Bender, Susan (Richard) McKennitt, Patricia Parent, Doug (Janet) Bender and Jacqueline Tatum; many nieces and nephews; as well as special friends: Jack and Ona Smith, and Dave and Linda Powell.  
The Funeral Service will be held on Thursday, September 29th, 2022 at 11:30 a.m. in Moose Jaw Funeral Home with a viewing from 10:00 a.m. to 11:30 a.m.  Pastor Marvin Seaborg will officiate and interment will take place at Hillcrest Cemetery in Avonlea, SK.  Those not able to attend may view the service virtually by going to www.moosejawfuneralhome.com/webcast/.  As an expression of sympathy, donations in Vic's name may be made to The Lung Association of Saskatchewan, 1231 8th Street East, Saskatoon, SK, S7H 0S5.  Arrangements are entrusted to Moose Jaw Funeral Home, 268 Mulberry Lane.  Cara Ashworth – Intern Funeral Director 306-693-4550