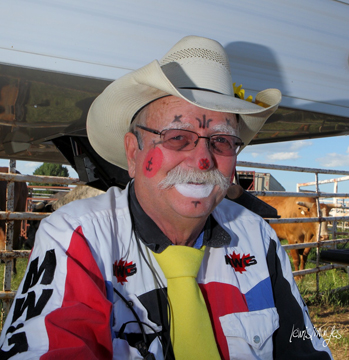 Our family and the rodeo community sadly lost a legend with the passing of Lee Bellows on Thursday, March 23rd, 2023.  He was predeceased by his parents, Ralph Bellows and Gladys (Blenkiron) Bellows of Moose Jaw, SK.  After an extended illness, Lee slipped away at home, surrounded by loved ones.  Lee is survived by his loving wife of 27 years, Teresa; children: Casey (Laurelle), Kristin (Dan) and Alvin (Nok); grandchildren: Bryce (Lindsay), Brayden, Jacob (Sarah), Emily, Nikola, and Bohden; sister, Joan; father-in-law, Bill (Norma); as well as extended family members: Marlie (Scott), Raymond and his daughter, Miranda (Ben).  Though he is perhaps best known as a beloved rodeo clown and cowboy poet, first and foremost, Lee was a dedicated husband, father, grandfather, and friend.  Before he met the love of his life, Teresa, he was a proud single parent at a time when single dads were few and far between.  He spent his weekdays working as a livestock inspector for the Department of Agriculture, while cooking crockpot suppers, sewing badges on brownie uniforms, and driving back and forth between baseball and hockey practices.
On the weekends, Lee, a self declared "rodeo addict", spent his time rodeoing every chance he got and his accomplishments and contributions to the rodeo community were immeasurable.  This pursuit took him across Canada, performing from Vancouver Island to Ontario and pretty much everywhere in between, including the Calgary Stampede.  Lee always noted that he performed there twice, which was a particular source of pride since being brought back a second time was evidence that it wasn't just a "fluke".  Rodeo even took him as far as Melbourne, Australia for a once in a lifetime performance on the other side of the world.  When he wasn't in the arena, he was promoting rodeo one way or another.  He was an accomplished cowboy poet and he made TV appearances on Sesame Street, Makin' 8, One in a Million, Mobile MD, and his cheeky poem on gun control was read in the House of Commons.
Lee never hesitated to lend a helping hand where one was needed.  He was tireless in his dedication to his work on various committees, including the Moose Jaw Exhibition Board, volunteerism with the Burrowing Owls' Habitat, Ducks Unlimited, and more recently his work as a founding member of the Moose Jaw Rodeo School.  He was a gold card member with the MRCA and CCA and was recently awarded an honorary lifetime membership with the SAASE in recognition of his tremendous contributions and many years of service in Saskatchewan.
Lee made friends everywhere he went and his trademark rodeo van, (which was later replaced by a much more comfortable RV), was a welcoming signpost everywhere he and Teresa went.  And when they weren't travelling, their door was always open and ready to take in travelling cowboys (or rodeo queens) when they were passing through town and needed a place to lay their heads.
Following his retirement from the barrel in 2017, Lee still loved to travel to rodeos and connect with his rodeo family as much as possible.  He and Teresa were able to spend more time with their Boston Terriers and visiting with friends both at home and those they made while wintering in Arizona. 
Lee loved to connect with his friends every way he could, and his days were brightened immensely with all the messages, stories, phone calls and visits he received over the past months.  Special thanks as well to the Palliative Home Care support team – Pat, Catherine, and the many others who helped us care for him at home throughout his journey.  A Celebration of Lee's Life will be held on Thursday, April 6th, 2023 at 2:00 p.m. in the Convention Center at the Moose Jaw Exhibition Grounds.  In lieu of flowers, donations in Lee's name may be made to the FHHR Home Care Palliative Program c/o Crescent View Clinic, 131 – 1st Ave NE, Moose Jaw, SK S6H 0Y9.  Arrangements are entrusted to Moose Jaw Funeral Home, 268 Mulberry Lane.  Michelle Ellis, Funeral Director 306-693-4550