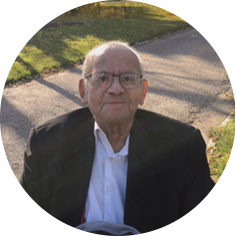 Amos Beharry was born April 22nd 1929 at Plantation Port Mourant, Guyana.  He passed away on Sunday, January 3rd, 2021.  He was one of eight brothers and four sisters.  He was educated at Rose Hall Catholic School then Corentyne High School where he got the London Junior & Cambridge certificate.  He then entered the Guyana Teacher's Training College where he graduated with the teacher's first class certificate.  He started teaching at the Sacred Heart Roman Catholic School in Georgetown, Guyana where he served for several years.  In 1958 he married Hyacinth Beharry (née Ten-Pow).
They both left for England where he was admitted to Queen's University in Belfast and graduated with a medical degree in 1966.  This union produced three children – Shauna, Pauline and Peter.
He worked in Northern Ireland then returned to Guyana and worked at the Seventh Day Adventist Hospital for a year.  Returning to Ireland during the time of the troubles, he took steps to move his family to Canada and settled eventually in Moose Jaw, Saskatchewan.  There, he practiced devotedly as a doctor for 32 years.  In 1988, Hyacinth sadly passed away.  He later married Lily Walker in 2000 who also passed away in 2005.  Amos loved being a doctor.  The arts, nature, and his strong faith life as well as his family and community were a source of unending joy.
Amos is survived by his daughters, Shauna (Gregory) and Pauline (Trevor); grandson, Lincoln; and his son, Peter (Carrie).  Also by his siblings: Doreen, Stella, Randolph, David; and many nieces, nephews, grandnieces and grandnephews.  
Due to the current Covid-19 restrictions, a Private Service will be held to honor Amos' life.  In lieu of flowers, donations can be made to the Heart and Stroke Foundation of Saskatchewan, Unit 26 – 1738 Quebec Ave, Saskatoon, SK S7K 1V9 or Canadian Cancer Society, 1910 McIntyre St, Regina, SK S4P 2R3.  Arrangements are entrusted to Moose Jaw Funeral Home, 268 Mulberry Lane.  James Murdock, Funeral Director 306-693-4550