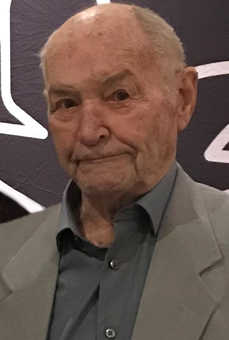 It is with heavy hearts that the family of Edward Alphonse Begin (1932 – 2021) announce his passing at the age of 88 years on Tuesday, April 27th, 2021.
Edward was born in Fort William, ON to Adelord and Cecelia Begin on August 30th, 1932.  He was predeceased by his teenage brother, James; parents, Adelord (Sparky) and Cecelia; sister, Joan (Michael O'Neil); brothers: Gordon (Cheryl), Paul (Darlene), and Thomas (Eileen); cousin, Morris Begin; niece, Kelly Carriere; as well as numerous aunts and uncles.  Ed will be lovingly remembered by his wife of 64 years, Shirley Ann (née: Semenchuck); son, Rod (Helen, Helen's daughter Nora and her daughters, Bailey, Braelyn and Rowyn); grandson, Mitchell (Brittney); great-grandchildren, Maci and Oaklan; grandson, Taylor, and grandson, Nicholas; daughter, Shelly (Ben Dombowsky); grandson: Matthew (Carla); great-granddaughters, Pascale and Simone; grandson, Mark (Dominique); great-grandchildren, Theodore and Margot; grandson, Louis; granddaughter, Annie (Joel); great-granddaughter, Gianna; and granddaughter, Abigail; daughter, Susan (Seth and Raeden Larson); grandson, William; brother-in-law, Gary Semenchuck (Bunny); and many nieces and nephews, lifelong friends and colleagues.
After school Ed left Fort William, he joined the Canadian Air Force and moved to CFB Winnipeg.  He was later posted to the Moose Jaw Base and worked there for 5 years.  His best friend set him up on a blind date and Shirley was the girl.  They were married in Moose Jaw on December 8th, 1956 at St. Andrew's Church.  They moved shortly after to Fort William where their son Rod was born in 1958.  Ed worked as a printer type setter for a few years and they headed back to Moose Jaw to be closer to Shirley's family in 1960.  Ed volunteered with the Moose Jaw Wildlife Federation from 1960-1969.
Ed worked at Grand Valley Press and Shelly and Susan were born in 1963 and 1964.  In 1970 he was hired as the Executive Assistant of the Saskatchewan Wildlife Federation, and in 1973 he was hired and remained the Executive Director until he retired in 1998.
During his career Ed was awarded the Ducks Unlimited Canada Conservation Service Award in 1982 for the Launching of Heritage Marsh Programs.  In 1989, he was awarded the CWF Outdoors Man of the Year.  In 1997 he was awarded the Gordon Lund Memorial Conservation Award – presented to the person who, by thought, effort and deed, is considered to have contributed the most towards the conservation of Saskatchewan's renewable natural resources.  In 1998 the Ed Begin Conservation Project Award was established and is presented annually to an affiliate branch of the SWF for the most outstanding fish or wildlife habitat project completed in the current year.  Ed sat on many boards throughout his career such as the Saskatchewan Wetland Conservation Corp, National Habitat Coalition, and the Integrated Forest Management Committee.  He was also Past Chairman of Qu'Appelle Valley Public Advisory Council, Past Member of Provincial Drainage and Flood Control Study, Provincial Land Use Study, and Ecological Areas Committee.
Ed was an avid hunter and fisher.  He hosted many hunts in Saskatchewan.  Ed's vision and dedication to the SWF and to Saskatchewan's wildlife resource was legendary throughout Canada.
Other than family, few things meant more to Ed than spending time tramping through Saskatchewan's native grasslands chasing his beloved upland game birds.  The whirring wings of a busting covey of partridge or the sudden clucking of a flock of rising Sharptails was music to Ed's ears; especially if it was followed by the report of his trusty Smith and Wesson twelve gauge.  His keen marksmanship was talked about by all of those that had the privilege of spending time with him, either hunting uplands or big game in the province he so dearly loved.  Ed was a gentleman sportsman and a legend in the sporting community.
Ed built two houses for Shirley in the VLA area from reading books on building and carpentry.  He also became a custom cabinet builder for himself, his family and many people in Moose Jaw.  The wood dusted table saw was a permanent fixture in his garage.  Ed was an avid learner and was always found reading in his chair.  When he wasn't working, hunting, waiting for Shirley at the mall, or watching grandkids play hockey, he sure loved playing golf.
We would like to thank the kind and caring nurses and doctors on the Surgery Floor at the Dr. F.H. Wigmore Regional Hospital and also the staff at West Park Crossing for their care and ability to take Ed's jokes with a grain of salt.
A Celebration of Ed's Life will be held on Sunday, September 19th, 2021 from 2:00 to 4:00 p.m. at the Moose Jaw Wildlife Federation Clubhouse, 1396 3rd Ave NE, Moose Jaw, SK.  As an expression of sympathy, donations in Ed's memory may be made to the Saskatchewan Wildlife Federation, 9 Lancaster Rd, Moose Jaw, SK S6J 1M8 or online at swf.sk.ca.  Arrangements are entrusted to Moose Jaw Funeral Home, 268 Mulberry Lane.  Todd Sjoberg, Funeral Director 306-693-4550