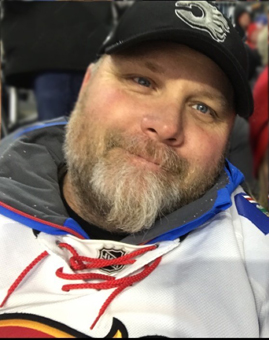 It is with very heavy hearts that we announce the passing of Todd Henry Beattie "Beadz", age 48 years of Moose Jaw, Saskatchewan, on Sunday, September 5th, 2021, in a motor vehicle accident outside of Golden, BC.
Todd was born to Jack and Elaine Beattie on April 12th, 1973 in Calgary, Alberta.  At the age of 2, the family moved to a farm near Moose Jaw, SK.  He attended Lindale Elementary School and Peacock Collegiate High School.  Todd was a straight "A" student, inquisitive and eager to learn.  Early on in life, he could be found taking things apart and putting them back together, which proved to be a great skill later in his life as friends and family often came to Todd for help with their vehicle issues, assorted repairs, and renovation needs.  Todd was curious, always looking for an "adventure" of some sort.  As a young boy, he took every opportunity he could to be on and drive every piece of farm equipment available, either at home or when visiting the Beattie family farms in Qu'Appelle and Indian Head.  He could always be found ripping around the farm on his dirt bikes and snowmobiles, and spending time with the family pets; this is something he carried on as an adult with his own family. 
Todd was a hard worker, always helping both his parents and grandparents with many chores around the farm and family homestead.  He also spent a lot of time at the Buffalo Pound Lake Homestead with his uncle Fred learning many tricks and shenanigans.  Another favourite activity of Todd's when he was growing up was hide and seek in the dark with cousins from both sides of the family, however he was easily found as he was too impatient to stay hidden!  He loved sports and being active.  Todd excelled at high school football and had opportunities to pursue football further. 
Todd began dating Holly in July 1993 and knew right away she would be the love of his life.  After dating for only 6 months, the couple were engaged and shortly after, Todd and Holly got married in October of 1995.  They welcomed four beautiful children into the world, each one stealing a piece of Todd's heart.  He was a devoted husband, father, and son.
Todd had a close bond with his dad and they enjoyed spending time together, whether they were out for a drive, fishing, going for breakfast/lunch dates, or playing a competitive game of crib.  He loved teasing his mom and enjoyed their many conversations.  Todd was always a big support to his parents, helping in any way he could, whether that was renovating, fixing vehicles, picking up groceries, or visits on the deck while enjoying a coffee or a beer.  Todd's love of family was also very evident with his in-laws, whom he helped and spent time with as much as he could.  Todd always enjoyed family get-togethers.  They were large, loud, busy, and fun.  He was a huge sports guy, always playing on a hockey team or 3, enjoyed slow pitch with Holly for many years, and most recently took up inline hockey.  Todd was passionate about hunting and outdoor activities, and was a member of both Ducks Unlimited and The Saskatchewan Wildlife Federation.
Todd's love for adventure connected him to so many people.  He touched the lives of many kids over the years through coaching a variety of sports, his children's friends, and with the daycare Holly ran out of their home.  He had nicknames for all the players, friends, and daycare kids and could always be found teasing back and forth with them.  The daycare kids will miss his special daily high fives.  He was a committed father and his children's biggest fan! 
Todd was a "MacGyver" guy – there wasn't anything he couldn't fix, create, or build.  He especially took pride in working on vehicles and doing projects with his family.  Todd could often be found in his garage or at his favourite stops – SGI Salvage, Princess Auto, Cabela's, Buck's Auto Parts, Walmart, MJ Ford, and Canadian Tire.  His hard-working nature continued into his adult years when he was employed with Clorox Company of Canada, Cardinal Construction, and the past 17 years with CP Rail as a dedicated Engineer.
Summers included family bike rides, long walks, ice cream stops, date nights with Holly, wing nights with friends, and of course "hot tub time machine" with his favourite girls, Holly and Alysa.  He enjoyed cooking up big, elaborate meals, often including the BBQ, and especially his famous breakfasts. 
Always a nature guy, Todd liked to storm chase, star gaze, and watch sunsets.  His best times were when he and his family were at Buffalo Pound Lake where they enjoyed fishing, shed-hunting, nature walks, boating, quadding and dirt biking, beachcombing, berry picking, "glug-glugging", and evenings with friends around the bonfire.  Lake time also included backgammon, cribbage, Yahtzee or card games, and as Todd did everything with purpose and passion, game nights could get quite competitive!  He was always up for a beer and you could often hear him say "Is it Beer O'Clock yet?"  The winter months were spent in the rinks, ice fishing, snowmobiling, and family movie nights at home.  
His most recent joy was being "Grandpa Todd" to Korra and was anticipating the arrival of his grandson Gabriel Todd Jack (born September 23rd, 2021).  He also enjoyed spending plenty of time with his grand dogs, Bauer and Easton.  When you spent time with Todd, he always had you laughing with his ability to tell a good story, or just by being the "Jokester" that he was!  You left knowing you mattered, and the world was a better place because Todd was in it.
He was predeceased by his grandparents, aunts, uncles, cousins, brother Timmy, an unborn child, and special friends.  Todd will be lovingly remembered and forever missed by his wife, Holly Beattie (née: Bellrose); their children: Bryton (Rebecca), Kaleb (Tia), Alysa (Brody), and Kai; grandchildren, Korra and Gabriel; and beloved dog, Tyko.  He will be deeply missed by his parents, Elaine and Jack Beattie (late September 27th, 2021); mother-in-law, Caroline Bellrose; father-in-law, Delvin (Sheila) Bellrose; siblings: Cindy (Dwayne) Ross, Dawn (Jonathon) Banyard, and Terry (Angie); sisters/brothers-in-law: Kathy Jo (Barry) Trumbley, Jayne Bellrose, Garth Penn, Sherry (Scott) Simpkins, Jerry (Mandy) Bellrose, Danny (Shelena) Bellrose, Julie Bellrose, Laurel (Scott) Hutchinson, Nathan (Paige) Bellrose, Dylan Bellrose, Nicole Bellrose, and Cordell (Kelsey) Bellrose; and his sidekicks, "Bowes" and "Clewy".  He is remembered and missed by his special aunts and uncles, cousins, his many dear nieces and nephews, great-nieces and nephews, lifelong friends, teammates, co-workers, and by all whose lives he touched. 
A Celebration of Todd's Life will be held on Sunday, May 29th, 2022 at 2:30 p.m. at the Hillcrest Apostolic Church, 1550 Main Street North, Moose Jaw, SK. Those not able to attend may view the service virtually by going to https://youtu.be/v6Y-NNYbF2A Pastor Steve Atkins will officiate. For Private Family Internment will take place at St. Columba Cemetery "Little White Church" near Buffalo Pound.  In lieu of flowers, a trust fund has been set up for their youngest child, Kai Beattie, at BMO Moose Jaw Branch, or donations may be made in Todd's memory to Jeneece Place, 201 Hospital Way, Victoria, BC V8Z 6R5 www.islandkidsfirst.com.  Jeneece Place is a home away from home for sick/injured children and their families, a place that was very near and dear to Todd's heart. 
The family wishes to thank everyone for their support and generosity during this difficult time.  Words cannot begin to express their heartfelt gratitude for the continuous outpouring of love and kindness from the community.
Arrangements are entrusted to Moose Jaw Funeral Home, 268 Mulberry Lane.  Michelle Ellis, Funeral Director 306-693-4550