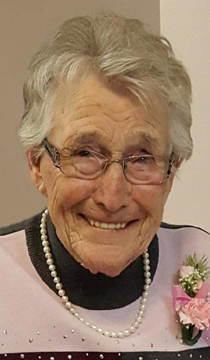 Ethel Marie Bathgate, aged 99 years, passed from this life on Wednesday, July 20th, 2022 in Central Butte, SK.
Born December 6th, 1922 on a farm near Elbow, SK, Ethel was the 11th of 13 children.  After she lost her mother at the age of 7, and then her father shortly after, Ethel was raised by her older sisters until she was old enough to strike out on her own and find work.  When Ethel spoke of her early adult days she said "we didn't have much, but we sure had fun".
Ethel married Wilton Bathgate in 1948 and they raised their family on a farm in the Bridgeford area.  Sunday dinner at the Bathgate's was the best – farm raised fried chicken, baby potatoes, fresh peas, carrots, corn on the cob, green or cabbage salad, along with homemade bread or buns and rhubarb pie.
Ethel loved life.  She had the warmest smile and the heartiest laugh that came from her toes.  She also loved a good 'knee slapping' joke.
In the fall of 1978, at 55 years old and far too early, she lost her life partner.  Ethel continued to live and work on the farm until 1985 when she moved into town, living in the 'round house' in Central Butte.  She was always a hard worker and kept herself busy.  She worked at the Central Butte Hotel cleaning rooms for a few years.  Ethel enjoyed reading, fishing, gardening, curling, and having coffee with her many friends at Karen's snack shop.  
Ethel cherished every moment spent with her kids and grandkids, and later great-grandkids.  She absolutely loved when her kids came home to visit.  Her friends and community also meant the world to her.
She was predeceased by her husband, Wilton; grandson, Andrew; and all of her brothers and sisters.  Ethel leaves beautiful memories with her children: Dwight (Marge), Marie (David), Monty (Laurie), and Treana (Norm); grandchildren: Jay, Tara (Pat), Kelli, Trent, Jamie and Amanda; and great-grandchildren: Jerica, Justin, Jax, Olivia, Tayvin and Ethan.  She is also fondly remembered by many nieces, nephews and friends.
Goodbyes are not forever; goodbyes are not the end.
They simply mean I'll miss you, until we meet again" – Unknown
The Funeral Service will be held on Saturday, August 27th, 2022 at 1:00 p.m. in Central Butte United Church.  Pastor Marvin Seaborg will officiate and interment will take place in Tugaske Cemetery.  Arrangements are entrusted to Moose Jaw Funeral Home, Michelle Ellis, Funeral Director 306-693-4550