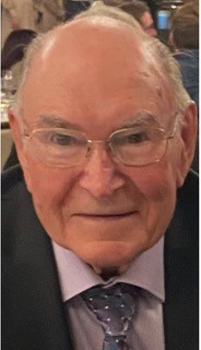 We said farewell to Ronald Arthur Bartusek on Monday, March 21st, 2022 shortly after midnight.  Ron was the best friend and loving husband of Marilyn (née: Turner).  They met while he was a station agent with CP Rail in Sovereign, SK.  They were married in October 1958 and settled in Swift Current, SK.  He was the father and number one cheerleader of Valerie (Monty) Bennett, Alison (David) Madsen and Robert (Paulette) Bartusek.  His grandchildren: Daniel (Chantel), Christian (Cady) and Noah Bennett, Stephanie (Adam) and Kirsten (Chris) Madsen, and Josh, Jordan (Jenna) and Jade Bartusek, were the lights of his life.  He was a very proud grandfather and took great joy in supporting them in all their activities and accomplishments.
Ron was born on the family farm just south of Glenside, Saskatchewan on August 5th, 1932.  He was the last surviving child of the 9 children born to Stanley and Antonia Bartusek.  He has a huge family with many nieces and nephews across the country with whom he strived to stay in contact.  Ron was very family oriented and would spend many hours piecing together the Bartusek Family tree.  One of his great adventures was going to the Czech Republic to find members of his extended family, with whom they lost touch after his grandparents immigrated to Canada.  Ron had a passion for living life well – never sitting still for long.  He was very involved in the community and his church.  He enjoyed sports as a participant and a spectator.  The Leafs, the Blue Jays and the Roughriders were his favourite teams.  If anyone needed help, he was always willing to lend a hand and spent many hours volunteering.  He loved to tell stories, and when he told jokes, he was often laughing so hard he could barely get to the punchline.  God, family and friends were the greatest importance to Ron.  Good friends were considered members of the family and were always welcome in Ron and Marilyn's home.
After retiring, Ron and Marilyn moved to Palliser Park where Ron could indulge in his love of golf and fishing.  They spent many enjoyable years as part of the Riverhurst – Central Butte community, until moving into Moose Jaw where he continued to actively volunteer and participate in the community and his church.
Ron fought valiantly over the last three and half months after enduring surgery for a brain tumour in late November.  We would like to thank the Dr. F.H. Wigmore Regional Hospital staff, Regina General Hospital staff, and the staff at Providence Place for their care of Ron during his journey.  Special appreciation is extended to the nurses and staff of Memory Lane at Pioneers Lodge for the care and support given to Ron and his family during his palliative care.  We would also like to say a very special Thank You to Dr. Ava McDonald and Dr. Kumar.  Ron's family is very grateful to Moose Jaw Funeral Home for everything they have done to help us celebrate his life.  
A Celebration of Ron's life will be held on Saturday, April 2nd, 2022 at 3:00 p.m. in Moose Jaw Funeral Home with Reverend Tim Ellis officiating.  Following his wishes we ask that you avoid wearing black – he loved bright colours and would like people to wear "colourful shirts and socks".  Those not able to attend may view the service virtually by going to www.moosejawfuneralhome.com/webcast/.  As an expression of sympathy, donations in Ron's memory may be made to Heartland Hospice Moose Jaw, Box 334, Moose Jaw, SK S6H 4N9 (admin@heartlandhospicemj.ca) or The Glenside Jan Has Society c/o Larry Mikulcik, 947 Haslam Crescent, Saskatoon, SK S7S 1C8 (glensidejanhus@gmail.com), an organization dedicated to preserving the country church in the community where his family homesteaded.  Arrangements are entrusted to Moose Jaw Funeral Home, 268 Mulberry Lane.  James Murdock, Funeral Director 306-693-4550