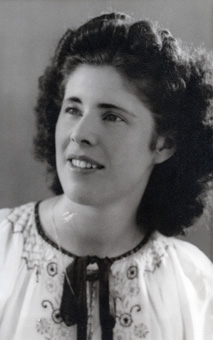 Petronella "Nellie" Barnsley
Petronella "Nellie" Barnsley (née: Hoogervorst), aged 99 years of Moose Jaw, SK passed away on Tuesday, April 13th, 2021 surrounded by her family.  Nellie was born in Loosduinen, Holland on March 29th, 1922 and was one of eight children.  She worked in a hospital in Holland during World War II, where she met William Barnsley.  She was a nurse during her time there.  Nellie came to Canada after the war.
William and Nellie were married in Congress, SK on June 10th, 1947.  The couple lived on the Barnsley family homestead and later built a home in Assiniboia, SK.  They were blessed with two sons, John and Vincent.  Nellie enjoyed square dancing, cross-stitch, and spending time with her family and friends.  
She was predeceased by her parents, Jacobus Hoogervorst and Elizabeth Van Dalen; husband, William in 1984; son, John in 2010; 1 sister and 4 brothers; brother-in-law, Glen; and sister-in-law, Helen.  Nellie is survived by her son, Vincent; daughter-in-law, Joan; grandchildren: Janice (Hoyt), Derek (Ashley); and Rhonda (Kyle); 5 great-grandchildren; as well as 2 sisters.
A Private Family Service will be held at a later date.  As an expression of sympathy, donations in Nellie's name may be made to the Assiniboia Union Hospital, 501 6th Avenue, Assiniboia, SK S0H 0B0.  Arrangements are entrusted to Moose Jaw Funeral Home, 268 Mulberry Lane.  Gary McDowell, Funeral Director 306-693-4550