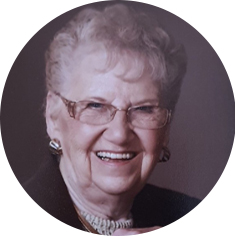 Helen Baird passed away peacefully, with family by her side, on Saturday, July 11th, 2020 at the age of 92 years.  Raised on a farm East of Elbow, Saskatchewan she left after attending High School to live with her sister Esther in Vancouver, BC.  Helen loved the city but missed Saskatchewan and moved to Moose Jaw in the late 1940's where she lived with her sister Elenor.  She worked at the National Bakery on Main Street where she met her future husband, Jim Baird, as a customer.  They were married in 1950 and together they raised their two children, Cheryl and Robert.  Helen worked at several locations in Moose Jaw, but worked at the Army & Navy Department Store until her retirement.  Helping customers was the highlight of her days.  Helen also enjoyed being active and could often be found at Timothy Eaton's having lunch, walking, singing or dancing.  She always had a positive outlook on life and made the best of any situation.  Helen will always be remembered as a joyful, loving person.
She was predeceased by her husband of 57 years, Jim (2007); brothers: Art (Meridell), Bjarne (Olive), Edward (Norma), Gerhard (Bernice), Elmer (Ruth) and Lloyd (Jean); sisters: Esther (Bert) Nodeland, Marg (Doug) Allcock and Elenor Clarke; and parents, Kaspar and Greta Knutson.  Helen will be lovingly remembered by her, daughter Cheryl Prest; granddaughter, Lora (Dave) Reidy; great-grandsons, Ryan and Josh; son, Robert (Elaine); granddaughter, Lindsay (Mark); great-granddaughter, Rebecca; and great-grandson, James. 
The family would like to extend thanks to the staff at Extendicare in Moose Jaw for their kindness and compassion.  A Private Family Graveside Service will be held at Rosedale Cemetery at a later date.  Arrangements are entrusted to Moose Jaw Funeral Home, 268 Mulberry Lane.  Gary McDowell, Funeral Director 306-693-4550.