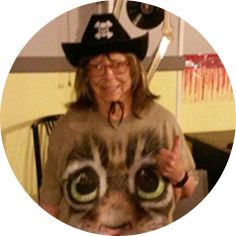 Joanne Bailey of Palliser Regional Park, SK passed away peacefully on Saturday, July 14th, 2018 at the age of 83 years.  Joanne was born on April 18th, 1935 and raised in Kitchener, Ontario.  She was predeceased by her husband, Brian Bailey; parents, Sally and Roy McGinnis; and brother, Jim McGinnis.  Joanne will be sadly missed and always remembered by her daughter, Debby-Lee Donat; granddaughters, Kasey Schmitz and Bobbi-Jo Schmitz; son, Chip Donat (June); grandsons, Zachary Donat and Ryan Donat; sister-in-law, Lucille McGinnis; nieces and nephews: Kelly, Bob and Tom; and brothers-in-law, Tom Bailey (Bette) and Terry (Doris).  A Celebration of Joanne's Life will be held on Tuesday, July 17th, 2018 from 2:00 – 4:00 p.m. at the Central Butte Hotel in Central Butte, SK.  As an expression of sympathy, memorial donations may be made to charity of one's choice.
Following are words of tribute from Debby that will be shared at the celebration:
What a fitting place to reminisce 24 years of running the most popular corner establishment in Central Butte, SK.  It is nice to see you here for Mum's "Celebration of Life". Mum was always full of surprises even to this day……. So I will start by telling you about her life journey.
Mum was born in Toronto, ON and grew up in Kitchener with her parents and older brother.  After she graduated grade 12 she ventured out on her own, relocating to London, ON. There she became the first woman commercial artist sign painter in Canada.  She opened her own shop she called 'Bunny Signs'. A few years later she successfully sold the business and moved back to Kitchener, where she worked for Hayes Advertising in Waterloo, ON and became a commercial sign designer for Acme Neon Signs in London, ON.  Mum painted on plastic and created neon signs and famously designed the signage on the bucket of Colonel Sanders Kentucky Fried Chicken.
In the early sixties Mum met our Dad, Martin Donat at a hockey game.  They fell in love, married, and in 1967 I was born. My brother Chip arrived in 1969 and the family was complete.  As a hockey mum she always made sure Chip was on time for his hockey games and I to my baton competitions and horse events.  We camped in the summers and spent lots of outdoor time. Life changed and fifteen years later Mum and Dad parted ways. Mum met Brian Bailey in the eighties and had a whirlwind courtship in Ontario, and then decided to give life a try out west.  Destination…Saskatoon, SK. In Saskatoon they built a house, started a business, bought a dog and were married. 'Love was in the air'. Mom drove a taxi cab during the day and Brian started a home insulation company. After a few years they decided to change course and using Brian's sales experience and Mum's artistic talent opened "Apple Signs", their own successful sign company in Saskatoon.  Many years later it was time for another change. Brian and Mum were looking to make an exciting move to the hospitality industry. They looked into purchasing a KOA campground, a gas station or restaurant. One sunny day I happened to mention that the Central Butte Hotel was for sale, soon after a new chapter was started. Mum was excited to be near myself and her granddaughters. Here she watched Kasey and Bobbi-Jo grow up to become beautiful young ladies.  Attending school sports and activities, she also taught them to golf and paint crafts. She loved to bond with them over many card games and fun games of scrabble.
Mum and Brian started their new venture together and set down roots at Palliser Park where they purchased their cabin.  They loved to golf, fish and be with family and friends. Sadly Mum lost Brian when he passed away in 2006.
Our Mum had many interests within the town of Central Butte.  She ran a charitable Bingo at the rink and legion for a few years, organized the yearly Central Butte garage sales and painted business advertising signs for the community and Central Butte Rodeo club.
Joanne was a remarkable woman.  When she decided to do something, she did it and I think it took a strong person to run the Central Butte Hotel all those years.  Another huge accomplishment was putting "Debby-Lee's Retro Fifties Diner" on the map in July of 2017 with her "World Famous Milkshakes".  This really touched her heart making headlines as writer-photographer Darrell Noakes wrote an article on his blog. Quote…"But the milkshakes were worth the effort.  There were only three flavours vanilla, chocolate and strawberry. They were the best milkshakes in the world". Many memories have been made connecting with all of you over the course of time and I want you to know that Mum loved each and every one of you.  She considered you another part of her family and you were always there, willing to help out when she needed a hand. Joanne Bailey was a fun loving, fabulous, free thinking mother and grandmother. Thank-you to all of you in every way, shape and form in supporting Joanne`s business years in the Central Butte Hotel.
Arrangements are entrusted to Moose Jaw Funeral Home, 268 Mulberry Lane.  James Murdock, Funeral Director 306-693-4550