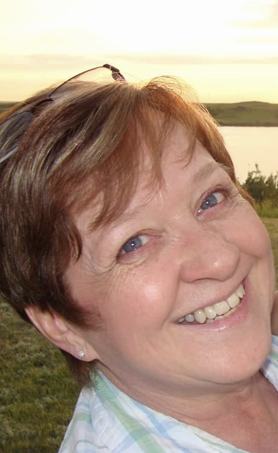 Shelley Maureen Bader, 67, of Moose Jaw, SK, passed away peacefully on May 16th, 2021 after a 15 year battle with breast cancer.
Shelley was born on April 20, 1954 to Archie and Donna Campbell in Swift Current, SK. After graduating from high school, she went on to study at Aldersgate College and attended 1 year at the University of Regina.
Shelley obtained her first job at the Sears Catalogue Centre in Regina. She moved on to work at Markham Florists and then managed Dominion Flowers & Cards.  Shelley was involved in the Welcome Wagon in Swift Current, SK, and taught Yamaha Music for Young Children in her home studio. Shelley was a committed and supportive wife working as the receptionist for her husband Ron at his law firm for many years, whenever needed. The two of them started an event coordinating business organizing numerous craft sales over the past 25 years.  Following the loss of her husband Ron in 2009, Shelley stepped back into the workforce after 35+ years as a homemaker and office assistant to Ron, and took on an administrative position at Moose Jaw Naturopathic Clinic and also worked part time at the First Free Methodist Church in the office. The position at Moose Jaw Naturopathic Clinic led to an opportunity to work for Dr. Lynn Chaisson when she opened her own practice, Main Street Naturopathic Clinic. Shelley thrived as the administrative assistant, learning in depth about the services and supplements that Dr. Chaisson offers to her patients. 
In 1973, Shelley met Ronald George Bader at a College & Career event hosted by Ron's sister Rosalie Bader. Rosalie and Shelley were extremely close friends and soon to be sister's-in-law. Ron and Shelley immediately hit it off and married a year later on December 28, 1974 in Regina, SK.  Ron and Shelley moved to Swift Current, SK, in June 1976. They adopted their first child, Melissa, in 1982 and their second child, Matthew in 1987, making their family unit complete. 
When Melissa and Matthew came into Ron and Shelley's lives, Shelley dedicated her life to being a fantastic and wonderful mother. Shelley excelled at supporting her children in all their endeavours.  She made birthdays and holidays special with seasonal themed lunches, decorations, activities and elaborate birthday cakes that everyone loved. 
Faith and Family was most important to Shelley. Family to her included the numerous close friends she developed over the years and held dearly to her heart. Shelley always supported her family and friends through the many passions and difficulties of their lives. She was a devoted daughter and sister to her parents and siblings, always staying in close contact and supporting in any way that she could.  She was always the first one there to help, and the last one to leave. She made it her mission to improve the lives of others.  
Shelley was most passionate, however, about her grandsons.  There was nothing in the world that meant more to her than her boys.  She showed them unconditional love in ways that only a grandmother can, and she soaked up every last drop of love from them that she could as well. There was plenty of love to go around when it came to Shelley and her boys.  When she wasn't showering her grandson's with warmth and kindness, she could be found taking care of her other family and friends. She never missed a birthday, anniversary, or any date of importance for anyone she knew. She was always reaching out with support to all of her loved ones.  We will miss her greatly.
Shelley was predeceased by her husband, Ron Bader, parents, Archie & Donna Campbell, parents-in-law, Gus and Elsie Bader, and sister-in-law, Rosalie Bader. She is survived by her children Melissa (Steven) Schiml &  Matthew (Kimber) Bader, her four grandson's Brayden & Riley Bader, Grayson & Ryker Schiml, her brother Don Campbell, sister Heather (Randy) Miller, her sister-in-law Joy (Dave) Nelson, as well as all her nieces and nephews. 
Due to the restrictions regarding the current health situation, a Private Family Service will be held.  Friends and Family are invited to view the Celebration of Shelley's Life virtually on Friday, June 4th, 2021 at 1:00 p.m. by going to https://youtu.be/ab_ZvI6HHp0. As an expression of sympathy, donations in Shelley's name may be made to the Arlington Beach Camp, Box 15, Cymric, SK S0G 0Z0 www.arlingtonbeachcamp.com.  Arrangements are entrusted to Moose Jaw Funeral Home, 268 Mulberry Lane.  James Murdock, Funeral Director 306-693-4550