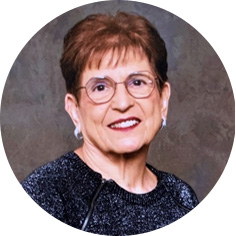 Rosalie Elsie Bader was born May 20th, 1943, the first child of Elsie and Gus Bader of Hodgeville, SK.  The angels came for her at 7:30 p.m. on Friday, July 31st, 2020 and escorted her home to glory.  
In 1947, her sister Joy joined the family and her brother Ron completed the family in 1950.  Rosalie received and completed her schooling from grade 1 through grade 12 in Hodgeville, SK, and went on to University in Regina, SK and then graduated with her Bachelor Science in Pharmacology in Saskatoon, SK in 1966.  Rosalie was very active as the secretary for Intervarsity Christian Fellowship and a member of the Greystone Singers.  
Rosalie worked as a pharmacist at Grey Nuns Hospital in Regina, the Co-op in Medicine Hat, AB and Safeway in Moose Jaw until her retirement in 2008.  At two different times during her career as a pharmacist, she took a break to attend Multnomah School of the Bible in Portland, OR and Portland Western Seminary to complete her Masters.  She also became a Professor and Dean of women at Hillcrest Christian College in Medicine Hat for 9 years. 
In 1987, Rosalie and her mother Elsie both moved to Moose Jaw, following her brother Ron, where she lived out the rest of her life.  Rosalie and Elsie built a large three storey duplex which included a full suite in the basement.  Many precious memories were made in that house, and at one time there were 4 generations living under one roof.  Rosalie gave years of her life to be the faithful caregiver to her mother.  The last 7 years Rosalie and Shelley shared the house and a life as they supported each other through their cancer journeys.  
Rosalie had a love for traveling.  She has been to the Holy Land, East Asia, Hawaii several times, Mexico, Cuba, Jamaica as well as traveling extensively throughout Canada and the United States.  Some of Rosalie's most treasured trips were the ones she took with her family.  Rosalie took each one of her nieces and nephews separately on a trip, keeping in mind each of their personal interests and creating life long memories for each of them with her.  Also very dear to her heart were trips that she went on with her sister Joy to the Maritimes, and with her sister-in-law Shelley to Mexico and Cuba. 
Rosalie was a wonderful speaker and shared her knowledge and wit in a creative way with various women's groups and as a guest speaker at a Bible School in Montana.  She taught Old Testament and knew the scriptures and Bible History.  Rosalie's faith was her priority and then her family – her immediate family of 6 nieces and nephews and 4 great-nephews who adored her.  Rosalie faithfully stayed in contact with her cousins, aunts and uncles, and dear friends through homemade cards using her own photography, her annual Christmas letters, and her regular phone calls to so many.  She cherished her church family and the close friends she made there.  Rosalie had many dogs over the years and loved them dearly.  She loved calligraphy, scrapbooking and sewing many matching outfits for her, Joy, the nieces and nephews.
She was predeceased by her parents, Gus and Elsie Bader; brother, Ron Bader; and one infant niece.  Rosalie will be missed by her sister, Joy (Dave) Nelson and their children Mary Joy, Jonathan, Jeremy and Vanessa (Beau) Davis; sister-in-law, Shelley Bader and her children Melissa (Steve) Schiml and their children Grayson and Ryker, Matthew (Kimber) Bader and their children Brayden and Riley.  Due to the current health situation, a Private Family Service will be held to honour Rosalie.  As an expression of sympathy, donations may be made to the First Free Methodist Church, 375 Hochelaga St W, Moose Jaw, SK S6H 2G6 www.firstfmc.ca or Arlington Beach Camp, Box 15, Cymric, SK S0G 0Z0 www.arlingtonbeachcamp.com.  Arrangements are entrusted to Moose Jaw Funeral Home, 268 Mulberry Lane.  Andrew Pratt Funeral Director 306-693-4550