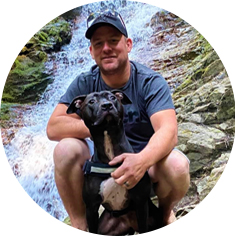 May 7th, 1980 – October 6th, 2020
Mark Antonio Aparicio passed away suddenly on Tuesday, October 6th, 2020 in Vernon, British Columbia at the age of 40 years.  Mark was passionate, with much love for his family and friends, animals, mixed martial arts, and the outdoors.  Mark worked, played, lived, and loved hard.  He wrote, "Nothing in life is as beautiful as it is when surrounded by family and great friends — loved ones are key to a full life, never forget that, and try not to take the importance of that for granted."
Mark was a great contributor.  He wrote about his feelings on community and contribution, "True happiness and fulfillment come from being a little more selfless and growing with people in our community and inner circles — we can't reach our potential alone people.  Always take a moment to appreciate the value of friendship, family and find the drive and will to do as much for your community, clubs, friends and family as you do for yourself — that is where real growth and achievement lies….I am at my best and most happy when I am part of something and give effort and guidance to more than myself."
Mark created strong relationships that lasted his lifetime.  He was predeceased by his grandparents; father, José; and faithful companion, Sarah.  Mark leaves behind his wife, Jaramie along with their furry children Bella, Bossie and Gimley.  Also left behind are his parents, Diane and Wayne; brother, Chris (Leah) and sister, Cara; nieces and nephews: Kaitlyn, Chayton, Mia, Ryan and Jade; in-laws, Joe and Rosalee, Kevin, and Kacy; his nephews, Peyton and Hunter; as well as many aunts, uncles and cousins in Canada, the U.S. and Spain.
Mark was born in Moose Jaw, SK.  It was here that he met his lifelong friend, Devin.  In 1995, the family moved to Estevan, SK where he met Sifu Dave Frederick, and his passion for the martial arts was born.  After high school, Mark left Estevan to train as a journeyman machinist only to return to master his craft.  In 2007, he moved to Lethbridge, AB and joined the family at Canadian Martial Arts Centre, competing in MMA and then progressing as a COMMAND Certified Referee.
Mark met Jaramie and the two were married in 2014.  He enrolled in the University of Lethbridge, earning his Bachelor's Degree in Management, majoring in Accounting, and minoring in Supply Chain Management.  Mark and Jaramie, along with their furry family, eventually found their house and home in Coalhurst, AB.
In February, Mark headed to Vernon and worked with the great crew at Aberdeen Machine.  Mark discovered the beauty of the Okanagan.  It was tough to be so far away from his family and friends, but Mark formed great relationships and impacted the lives of so many in such a brief time in Vernon.
A Celebration of Mark's Life will take place on Saturday, October 24th, 2020 at 11:00 a.m. in Moose Jaw Funeral Home.  Due to restrictions relating to the current health situation, attendance at the service is by invitation.  For those that are unable to be in attendance, the service will be broadcast on the Moose Jaw Funeral Home website at the following web address: https://www.moosejawfuneralhome.com/webcast.  
In lieu of flowers, donations in Mark's name may be made to your local Humane Society.  Arrangements are entrusted to Moose Jaw Funeral Home, 268 Mulberry Lane.  Michelle Ellis, Funeral Director 306-693-4550