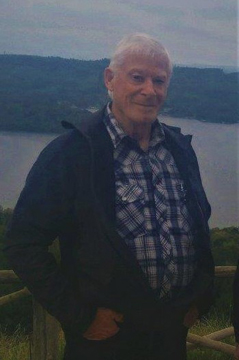 Wayne Richard Anthony aged 78 years of Moose Jaw, SK, passed away unexpectedly on Thursday, April 6th, 2023.  Wayne was born on September 16th, 1944 in Kincaid, SK to Lorne and Muriel Anthony.  The family moved for various farming ventures during his childhood, and finally settled on a farm close to Alida, SK.  
Wayne attended university and obtained a teaching degree.  He spent a few years teaching in Southern Saskatchewan and then decided to try out some new careers.  He attended the International Bible College in Moose Jaw, drove a bookmobile out of Swift Current, SK, worked at a hotel in Lethbridge, AB, then returned to driving a bookmobile in Moose Jaw.  Wayne stayed in Moose Jaw and began working at Canadian Tire.  Wayne eventually decided to try a life of leisure and retired from Canadian Tire, except he forgot to do the leisure part and was probably busier in retirement than he had been in any of his careers.  He travelled on many Missionary trips to Mexico with his church and spent a lot of time helping family and friends.  Wayne was a generous, selfless person who went above and beyond, putting his own needs aside to help others when they needed assistance.
He was predeceased by his parents; brother, Les; niece, Shirley; and nephew, Mitch.  Wayne will be greatly missed by his brothers, Bill (Kathy) and Dale (Holly); sisters, Hazel (Wayne) and Heather (Bob); nieces and nephews: Lorna, Stacey, Donna, Willa, Sherri, Riley (Denise), Jennifer, Rob (Amanda), and Greg (Monika); many great-nieces and nephews, including his closest: Jesika, Bobbi, Victoria, Shawn, Hannah, Ainsley, Hydie, and Evelyn; aunt, Hazel; as well as numerous cousins.
The Funeral Service will be held on Thursday, April 13th, 2023 at 2:00 p.m. in Moose Jaw Funeral Home.  Pastor Larry Hasmatali will officiate and interment will take place in Carnduff Cemetery.  Those not able to attend may view the service virtually by going to www.moosejawfuneralhome.com/webcast/.  A Time of Visitation for Family and Friends will be held on Wednesday, April 12th, 2023 from 7:30 p.m. to 9:00 p.m. at Moose Jaw Funeral Home.  Arrangements are entrusted to Moose Jaw Funeral Home, 268 Mulberry Lane.  Gary McDowell, Funeral Director 306-693-4550