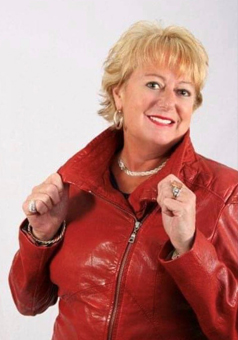 It is with profound sadness we announce the sudden passing of our dear Colleen Darla Annesley (née: Myers) who was a devoted wife, mother, grandmother, sister and aunt who will be sorely missed each and every day, by her family.
She was predeceased by her father, Kenneth Lloyd Myers; mother, Myra Luella Paulson; stepdad, Knud Eric Paulson; and grandparents: Alex and Grace Johnson, Emily and Thomas Myers.  Colleen is survived by her loving husband of 45 years, Robin; daughters, Tahnie (Sterling) Macdiarmid, Kirsten Annesley (Mitchell Tengbom) and Courtney Annesley (Brogan McCluskie); her most precious grandchildren: Tate, Tevi, Myra, Remi, Lacey and Alicia; brother Rance and his wife Carol Myers; as well as several nieces, nephews, aunts and cousins. 
Colleen was born in Moose Jaw, SK on February 12th, 1954 and attended public school at William Grayson School, then Ross School, and finally graduating from Vanier Collegiate in 1972.  Colleen worked at the Credit Union Co-op branch, Maccam Motors, and then married Robin on June 25th, 1976.  It was the happiest day of their lives.  Soon after they were married, Colleen had taken maternity leave and for the next 10 years she became a devoted mother who meticulously cared for her girls.  Their clothes were always pressed and cleaned and their hair was done to perfection.  Many years and hundreds of hours were spent sewing the girl's outfits and all her own clothes.  It was a talent that is hard to describe.  Her mother-in-law Beulah was looking over a tailored shirt that Colleen had made Robin, and Beulah was so impressed with her talent that she said that it was perfect, matching every pattern on the shirt.  Robin wore that shirt until he grew out of it. 
Once the girls began school, Colleen entered back into the work force.  She was employed with the Crown Corporation Saskatchewan Watershed Authority where she spent the next 23 years working for some wonderful people and she loved her job.
Colleen enjoyed the cabin at the lake and worked tirelessly in her garden looking after her flowers.  She was in her own little world looking after her little family of plants and she remained so to her final days.  Colleen enjoyed the special little cabin and Buffalo Pound Lake, which was their second home.  She was very organized in preparing for each weekend at the lake.  The family would get in from the lake on a Sunday evening and the washing machine would not stop until all the clothes, sheets and towels were done and packed in the 3 clothes baskets.  Colleen had every second Friday off so she would pack the Jeep and be ready on Thursday evening, spending the weekends getting the yard work done and then it was boat time, taking the kids and their friends boating, skiing and tubing.  After a long day on the water the family would enjoy the campfire, which were had every night.  Many evenings were spent socializing with neighbours.  Colleen loved to entertain, making sure everyone had a plate full of food and a drink in hand.  She loved her lake time.
In the later years when the girls had grown up and either moved away and pursued careers, Colleen and Robin would spend a month to 6 weeks of winter in Mexico where they met and still have life-long friends.  Their favourite places that they went to for several years were Puerto Vallarta, Cabo San Lucas, Zihuatanejo and Huatulco.  Approximately 7years ago they purchased a winter vacation home in Port Charlotte, where they loved and spent as much time allowable, but with the Covid-19 everything changed and they sold that home last fall.  It was a hard decision, as they enjoyed working on the place and with Colleen's flare for decorating, she had it looking like a million bucks, with friends coming by frequently and they would notice her talent for decorating.
Colleen you are deeply loved and words cannot express the loss and emptiness felt by myself, our girls and our grandchildren.  It's comforting to know that you will reunited by your loved ones and we will be with one another someday, all my love Rob.
The Funeral Service will be held on Saturday, August 14th, 2021 at 11:00 a.m. in Moose Jaw Funeral Home.  Reverend Dave Moore will officiate and interment will take place at Sunset Cemetery.  Those not able to attend are invited to watch the live service virtually by going to www.moosejawfuneralhome.com/webcast/.    Flowers are gratefully declined. As an expression of sympathy, donations in Colleen's name may be made to The Firefighter's Burn Unit c/o Moose Jaw Fire Department, 1205 Main St N, Moose Jaw, SK S6H 6M3.  Arrangements are entrusted to Moose Jaw Funeral Home, 268 Mulberry Lane.  Todd Sjoberg, Funeral Director 306-693-4550