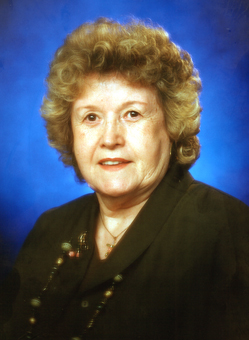 It is with our greatest sadness we announce the passing of Lydia Andrie, on her 95th birthday, on Sunday, January 29th, 2022. 
Lydia was born to Jacob and Elizabeth Ginther on their homestead farm in Mendham, Saskatchewan.  She was the last surviving sibling of their 9 children.  Lydia moved to Ormiston, SK to work, which is where she met her husband Dan.  They were married in November of 1945 and soon moved to Moose Jaw, where she happily resided until her passing.  Lydia became very close with all of Dan's siblings, their spouses and their families.  While in Moose Jaw she worked at the Exchange Café, the Union Hospital, and finally the Palliser Regional Library until her retirement.
Lydia was a devoted member of the Moose Jaw Alliance Church from 1945 until her passing – always in the same spot in the same pew, always with a purse full of tic-tacs, lifesavers, gum, or skittles, and always a voice in the foyer after the service.  Many people will remember her in the Library at the Church, working every Sunday morning for so many years.  At her 90th birthday celebration, Lydia was recognized for her service by a public presentation as well as a plaque being permanently placed in the library.  Her dedication to this Church and to Christ was so steady and never once waivered, and she was admired for this quality by everyone who knew her.
Lydia had many nieces and nephews she was so incredibly close to.  We heard story after story (after story) of her experiences with them here, there and everywhere.  The times she spent with all of them in person and on their phone conversations, with updates on everyone, were absolutely priceless to her.
Lydia was strong.  She was funny.  She was loud.  She was determined.  She was organized.  She was dedicated.  She was clean.  She was personable.  She was a great friend.  She was clever.  She was a tease.  She was trustworthy.  She was a great host.  She was faithful.  She was reliable.  She was social.  She was a good laugh.  She led by example.  She was never mad and never judgmental.  She never said a bad word about anyone or anything.  She never missed a game (much too some umps and referees' dismay).  She knew everybody and if she didn't, she would figure it out.  Nobody met and didn't like Lydia.  There will never ever be someone like her again, ever.  She was unique.
She was predeceased by her parents and 9 siblings; husband, Daniel; son, Daniel Thomas; grandson-in-law, Ryan.  Lydia will be forever missed by her sons, Allan (Dodie) and Wayne (Debbie); and daughter-in-law, Lorie (Rod) Heisler.  Her impact on all of her grandchildren is something that cannot be put into words: Marcie (Tyler) Simpson, Davin (Manuela) Andrie, Daniel (Sarah) Andrie, Danae Andrie, Jillaine (Tim) Abramoff, Hannah (Josh) Heisler, Jacob Heisler, Stefanie Wihlidal and Kyle (Holly) Alexander.  The generation to follow was just as lucky to get a chance to experience her uniqueness and loved the company of their great-grandma: Rhett Chute, Austin Smith, Mac Simpson, George Wihlidal, Addison Simpson, Rogan Chute, Rose Alexander, Clark Alexander, Grace Andrie, Jack Andrie and Stella Abramoff.  She is also survived by many nieces, nephews, great-nieces, great-nephews, and friends.
Due to the Covid-19 health situation, the Funeral Service to honour Lydia will be held at a later date.  As an expression of sympathy, donations in Lydia's name may be made to St. Joseph's Hospital/ Foyer d'Youville, Box 810, Gravelbourg, SK S0H 1X0.  The staff there were so amazing to Lydia and all of the family that went in "two by two" to see her in her last days on earth. Thank you!
Arrangements are entrusted to Moose Jaw Funeral Home, 268 Mulberry Lane.  Gary McDowell, Funeral Director 306-693-4550