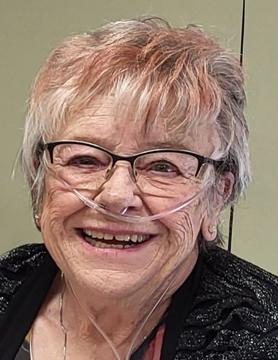 It is with deep sorrow and much love that we announce the passing of our mother, grandmother, and great-grandmother Carol Frances Andrews, aged 80 years of Moose Jaw, SK, on Thursday, April 27th, 2023 at the Dr FH Wigmore Regional Hospital, surrounded by her family and special friend Judy.  She was born on August 5th, 1942 in Caron, SK.
She was predeceased by her parents, Basil and Bessie Colenutt; her husband of 46 years, Jack Andrews; in-laws, James and Agatha Andrews; as well as numerous in-laws and special friend, Doug Mackie.  Carol is survived by her children, Larry (Shelley) and Debbie (Monty) Schiltz; grandchildren: Cody, Erin, Clay (Jesse, Jackson, and Isabella), Kiley (Joe, Julia, Emily and Leah), Alecia (Jacob and Paislee), and Haven; siblings: Eugene (Elsie), Lois Ayars, and Glen (Marj); as well as numerous nieces and nephews.
Carol loved the farm and all that it encompassed.  To say that she was a great cook and baker was an understatement.  She loved to entertain family and friends.  No matter the time of day, everyone was welcome.  Many happy memories were made at her kitchen table.  Carol was a volunteer at heart, and she catered and served at service clubs, several of the Chaplin activities, taught Brownies, as well as many, many other places that needed help.  She was president of the Genealogy Club and was proud of her heritage.  Carol was also an avid card player.
Jack and Carol travelled together with Deb, Larry, and friends to Hawaii when each of her children graduated nursing and heavy duty mechanics.  She was very proud of her children and their accomplishments.  Carol travelled on cruises, bus trips, went to Mexico and Cuba, and took a trip on the train, and loved every minute.  She was a traveller at heart, met many people, and had lots of tales to tell.
The Funeral Service will be held on Tuesday, May 2nd, 2023 at 1:00 p.m. in Moose Jaw Funeral Home with Pastor Marvin Seaborg officiating.  Those not able to attend may view the service virtually by going to www.moosejawfuneralhome.com/webcast/.  As an expression of sympathy, donations in Carol's name may be made to Ronald McDonald House, 1011 University Drive, Saskatoon, SK S7N 0K4 or to a charity of one's choice.  Arrangements are entrusted to Moose Jaw Funeral Home, 268 Mulberry Lane.  Gary McDowell, Funeral Director 306-693-4550