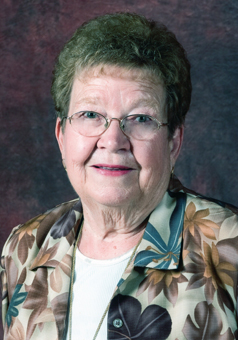 February 7th, 1935 – December 20th, 2021
It is with heavy heart we announce the passing of our dear sweet mother.  Ruth Cecelia Andrei passed away peacefully, with family by her side, at Providence Place in Moose Jaw, SK on Monday, December 20th, 2021.  
Ruth was the youngest of 3 children born to Harland and Inga Chase.  She married Toader Andrei in October 1956 and they raised 5 children: Ken, Barb (Rocky) Lidberg, Dale (Bonnie), Dwayne (Margaret), and Darrell (Angie).  Ruth's family was her world.  She was so proud of each one and she truly loved her children, grandchildren, and great-grandchildren with all her heart.
Ruth was a hard worker and would help anyone who needed her.  She gave of herself every chance and any way she could.  Toader and Ruth lived on the family farm working hard to feed their family.  She always grew a huge garden and raised chickens and pigs to put food on the table.  They moved to Moose Jaw where Ruth worked at the Union Hospital for many years until her retirement.  
Ruth was so proud of her family and their accomplishments, and was her musical boys' biggest fan.
She was predeceased by her husband, Toader; parents, Inga and Harland Chase; parents-in-law, Jennie and Sam Andrei; sister, Joan Kivol; and brother-in-law, Stan Kivol.  Ruth is survived by her children; grandchildren: Kim (Ron) and Karly, Kara (Josh) and Liam, Jackson, and Karson, Jaimie (Joe) and Carter and Eric, Clayton (Carrie) and Paige and Wyatt, Travis and Kali, Brandon (Alisha) and Jaxson, Liam and Emmerson, Brodie, and Dakota; brother, Alan; brother-in-law, John; sister-in-law, Helen (Steve); brother-in-law, Gabe (Debbie); sister-in-law, Vicky (Tom); as well as numerous nieces and nephews.
The family would like to thank the staff at Providence Place, in particular the St. Anthony staff, who took such good care of Mom, as well as the spiritual care staff for their support.  
The Funeral Service will be held on Thursday, December 23rd, 2021 at 10:30 a.m. in Moose Jaw Funeral Home.  Garry Giofu will officiate and interment will take place at Rosedale Cemetery.  Those not able to attend are invited to watch the service virtually by going to www.moosejawfuneralhome.com/webcast/.  As an expression of sympathy, donations in Ruth's name may be made to Providence Place Foundation, 100 – 2nd Ave NE, Moose Jaw, SK S6H 1B8.  Arrangements are entrusted to Moose Jaw Funeral Home, 268 Mulberry Lane.  Gary McDowell, Funeral Director 306-693-4550