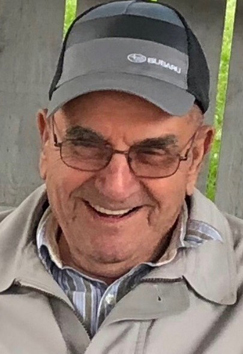 It is with heavy hearts that the family of John Andrei announce his passing at the age of 88 years on Wednesday, December 22nd, 2021.
He was predeceased by the love of his life of 61 years, Liz; father, Samuel; mother, Jennie; brother, Toader; sister-in-law, Ruth; and nephews, Jason, and Richard.
John was born in Ormiston, SK and grew up on the family farm.  He attended Creemore Farm School and when he was finished school, he moved away to start his career as an ironworker welder.  John met his wife, Liz at Ormiston, SK and they married July 1959.  They moved to Regina, SK for a few years, then returned to Ormiston where they farmed for many years, and adopted two children, Bruce in 1967 and Janet in 1970.  After retiring from ironworking, John began working with Sask Municipal Hail as an adjuster.  He enjoyed checking crops and chatting with his clients.  
John was a longtime member of the Oro-Lake Kinsmen Club, Moose Jaw Shrine Club, and the Masonic Lodge.  He enjoyed coffee time as well as monthly lunches and card games at the Shrine Club.  John enjoyed spending time with his family and friends.  He was very proud of his family's accomplishments.
John is survived by his son, Bruce (Dana); daughter, Janet (Grant); brother, Gabe (Debbie); sisters, Helen (Steve) and Vicky (Tom); as well as several nieces and nephews.  John will be sadly missed by his family and friends.
A Private Graveside Service for family and friends will be held at Rosedale Cemetery.  In lieu of flowers, donations in John's name may be made to the Alzheimer Association of Saskatchewan, 301 – 2550 – 12th Ave, Regina, SK S4P 3X1.  Arrangements are entrusted to Moose Jaw Funeral Home, 268 Mulberry Lane.  James Murdock, Funeral Director 306-693-4550