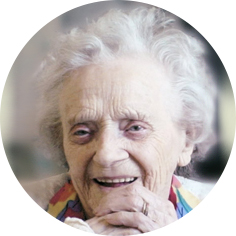 It is with sadness that the family of Lillian Viola Anderson (nee Johnson) announce her passing on Tuesday, November 17th, 2009. Lillian was born in Kelliher, Saskatchewan on December 12th, 1910 where she lived until 1971 when she and her husband John Anderson moved to Moose Jaw. She enjoyed knitting, crocheting, reading and doing the daily crosswords. She was predeceased by her husband of 57 years, John Anderson in 1987, son Kenneth in 1993, grandson Greggy in 1953, her sisters Jenny, Mary, Emmy and Vivfan, and her brother Johnny. She is survived by her sons Lloyd (Stephanie) of Port Hardy, B.C., Gordon (Lucille) of Foam Lake, Sask., Stuart of Moose Jaw, his friend Mike Bourne; 10 grandchildren; 19 great grandchildren; 9 great great grandchildren; numerous nieces and nephews; and many relatives in Sweden and Denmark. In keeping with Lillian's wishes there will be no funeral service. A Graveside Service will be held at a later date with Pastor Marvin Seaborg officiating. For those so wishing, donations in memory of Lillian may be made to The Extendicare Resident's Council, 1151 Coteau St. West, Moose Jaw, Sask. S6H 5G5 or to a charity of one's choice. The family would like to express their appreciation for the wonderful care and kindness given to Lillian by the staff at Extendicare in Moose Jaw, where she was a resident.
I am (at) home in heaven dear ones
Oh so happy and so bright
There is perfect joy and beauty
In this everlasting light.
All the pain and grief is over
Every restless tossing passed
I am now at peace forever.
Safely home in heaven at last.