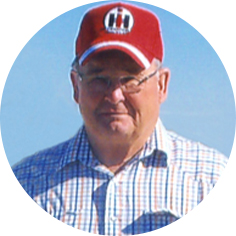 With profound sadness we announce the passing of our beloved Husband, Dad and Grandpa, Gordon Anderson at the age of 68 on Monday, March 4th, 2013 in Arizona.  Gordon was born June 5th, 1944 to Sandy and Nora Anderson.  He farmed and ranched in the Caron area all his life, retiring in 2011.  He had many interests and enjoyed having more time to pursue them.  Gordon is survived by his wife, Sharon; son, Derrick and grandchildren, Kelsey and Jordon.  There will be no Funeral Service held and memorialization will take place at a later date.  For those so wishing, donations in Gordon's name may be made to a charity of one's choice.
Remember him with a smile today
He was not one for tears
Reflect instead on memories
Of all the happy years
Recall to mind the way he spoke
And all the things he said
His strength, his stance, the way he walked
Remember these instead
The good advice he'd give us
His eyes that shone with laughter
So much of him will never die
But live on ever after
As we loved you, so we miss you
In our memory you are near
Loved, remembered, longed for always
Bringing many a silent tear.
The agony is so great and yet we will endure it.
Had we not loved so very much
We would not hurt so very much.
We will hurt and we will remember.
For it bears witness to the depth of our meaning.
…And for that we will be Eternally grateful.
Arrangements are entrusted to Moose Jaw Funeral Home, 268 Mulberry Lane.  James Murdock, Funeral Director. 693-4550