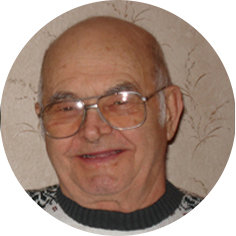 AMBROSE, GORDON JOSEPH
December 15th, 1929 – November 10th, 2013
Gordon was born in Moose Jaw on December 15th, 1929 and passed away peacefully on Sunday, November 10th, 2013 at the age of 83 years.  He was predeceased by his parents, Edmund and Pauline Ambrose; his brother, John (Jack) Ambrose; and his stillborn infant son.  Gord is survived by his loving wife, Florence of 64 years; and his children: Barbara Galger (Ken), Gord Ambrose Jr., Debra Bohlken (Jeffrey), Jim Ambrose (Lois) and Dan Ambrose (Yvonne).  Gord had 11 grandchildren and 7 great-grandchildren.  Gord is also survived by his siblings: Bill Ambrose (Lil), Bob Ambrose (Rose), Pauline Fraser (Glen), Marlyn Antil (Gord), Ken Ambrose (Bea), Barry Ambrose (Kathy) and Betty-Jean Kerwin (Larry); and so many nieces and nephews.  Dad worked hard as a pipe fitter most of his life – Husky Oil (1954-72), Imperial Oil (1972-79) and Moose Jaw Asphalt/Refinery (1979-96).  Dad could never do anything in a small way; even though he only had 5 children, he raised at least 30 horses – enough for all the kids and their friends to go riding.  This was Dad's way of keeping his kids and others off the streets and out of trouble.  Dad enjoyed trail rides, gymcanas at the High Park Riding Club and watching his kids compete in barrel and stake races.  Dad also enjoyed travelling Canada and the U.S.A., his cottage at Buffalo Pound and catching the biggest fish with his kids and grandchildren.  Dad always had a huge garden and could never have enough flowers around the cottage.  You could say that Dad was a bit of a collector of almost anything metal which he called his "treasures".  With that said, if anyone was looking for a piece to fix a broken mower, bike or vehicle, Dad probably had the piece and knew exactly where to find it.  It truly was amazing!  Dad also loved giving his famous whisker rub.  One of his favorite treats was licorice, which he always had a stash for young and old.  We remember Dad referring to everything from kids and bugs as a "little critter".  Dad will always be remembered and loved as a gentle giant with an even bigger heart.  Special thanks to the nurses at Moose Jaw Union Hospital, Dr. Cheddie, Dr. Thorpe and the staff at Pioneer Lodge for making Dad's last few months pain free.  A Come and Go Memorial Tea will be held on Saturday, November 16th, 2013 from 2:00 p.m. – 4:00 p.m. in the Harvey Room at Moose Jaw Funeral Home.  In lieu of flowers, donations in Gord's name may be made to the Terry Fox Foundation, 1812 – 9th Avenue N., Regina, SK S4R 7T4.  Arrangements are entrusted to Moose Jaw Funeral Home, 268 Mulberry Lane.  Calvin Gammel, Funeral Director 306-693-4550.