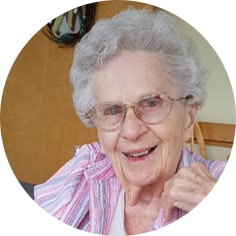 Lois passed away peacefully January 2, 2020 at the age of 96 after a brief illness.
She was born and lived most of her life in Moose Jaw, working as a Nurse/Head Nurse at Moose Jaw Union Hospital. She kept the doctors and staff in line, and was playfully referred to as "Crabby Allen".  A tough, gruff gal with a heart of gold, and a very dry sense of humour.
Predeceased by her parents Myrtle and Jim, and sister Betty, Lois is survived by her nieces Kathy, Alison, Pat and Libby, as well as several great and great great nieces and nephews. Lolo will be missed as we have so many fond memories of her.
We extend a heartfelt thanks to all those who cared for her in her later years, and especially her companions Audra and Ladybug.  
In keeping with Lois' wishes, a private service to be held at a later date.
Should you wish, a donation in Lois' name may be made to a charity of your choice, or to The Moose Jaw Humane Society Box 1658 Station Main Moose Jaw, SK S6H 7K7.  Arrangements are entrusted to Moose Jaw Funeral Home, 268 Mulberry Lane. Michelle Surtees, Funeral Director 306-693-4550