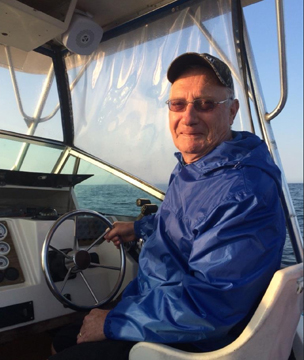 Dale Edward Akins was born on December 1st, 1941 in St Thomas, Ontario and transitioned on Saturday, February 4th, 2023 in Moose Jaw, Saskatchewan.
He was predeceased by his parents, Gordon and Anna May (née: Daniel) Akins; daughters, Jo Ann Ludwar (née: Akins) and Nicole Akins; twin bother, Garry Akins; and sister, Grace Taylor (née: Akins).  Dale will be forever and lovingly remembered by his family and friends: daughter, Roxanne (Rob) Wagner; grandchildren: Desiree Wagner and Jordan Wagner (Candice), Kane Ludwar (Moorea) and Jolyn (Brent) Tremblay; great-grandchildren, Slade and Kipton Tremblay; the mother of his children, Bette Jean; as well as numerous relatives, friends and neighbours.
At a young age Dale participated in 4H which led to his life-long love for raising cattle.  The annual cattle drives from the farm near Hearne, SK to the pasture in the Blue Hills near Avonlea, SK was a memorable and cherished event.  He was very blessed to be raised and chose to live in the farming community of Hearne, where he and Bette Jean raised their three daughters close to his parents, brother, uncles and aunts and many cousins.  With extended family and neighbors that were like family, it was a very special life.
Dale loved the simple things in life that gave him great pleasure.  His true nature was gentle and kind.  He also had a innate love and enjoyment of hunting and fishing with his uncles, cousins, grandsons and friends.  He passed on those genes for love of nature to all his grandchildren, and a particular passion for fishing and hunting he passed on to his grandsons Kane and Jordan.  In his later years, he enjoyed travel, the Shriners, gardening, wood carving, golfing, and curling.
Sincere gratitude to Extendicare Moose Jaw/ Moose Jaw Special Care Home for their ongoing care, love and support.  Special acknowledgments to his most loving devoted caregivers Arla, Sienna, Elena, Tammy, Cosett, Karen, Wanda, Colleen, and Heather, as well as many others.
A Celebration of Dale's Life will be held on Saturday, April 15th, 2023 at 11:00 a.m. at St. Andrew's United Church, 60 Athabasca St E, Moose Jaw, SK.  In lieu of flowers, donations in Dale's name may be made to the Moose Jaw Special Care Home, 1151 Coteau St W, Moose Jaw, SK S6H 5G5.  Arrangements are entrusted to Moose Jaw Funeral Home, 268 Mulberry Lane.  Andrew Pratt Funeral Director 306-693-4550