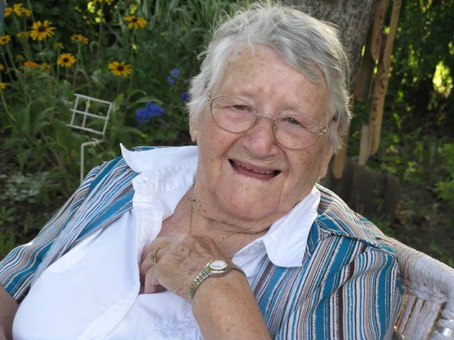 Lillian Lorna Aitken (née: Cornish), aged 106 years of Central Butte Regency Manor and formerly of Eyebrow and Moose Jaw, SK passed away at Central Butte, SK on Sunday, September 26th, 2021.  Lorna was born on the family farm south of Eyebrow on July 18th, 1915 to Mabel (née: Simpson) and John Cornish, the middle child of 5.  She attended Gallinger School and then took high school by correspondence.  Lorna married Robert Bruce Aitken on October 26th, 1936 at Three Hills, Alberta.  In 1942, they returned to help their parents on their farms.  In the fall of 1943, they purchased the Peever farm in the Darmody area, where they farmed and raised their family of what would eventually become 8.  In the fall of 1968, they moved to Eyebrow to operate the service station.  They purchased a house and when their son-in-law and daughter took over the service station, they spent a happy "retirement" enjoying the home and yard, and doing some travelling in their motor home.  
Lorna was active in the United Church (where she was the organist for many years both in Darmody and Eyebrow), United Church Women (life time member), and Eyebrow 4-H.  She looked after bookings for the Eyebrow Seniors Wellness Clinic for many years.  She served as councillor on the Eyebrow Village Council for 4 years.  Always very fit, she curled until she was in her 80s.  
Lorna's hands were always busy with a variety of crafts including knitting and crocheting, ceramics, needle point and petit point, and especially making quilts.  Gardening was also her passion and joy.  She loved to visit and regularly played scrabble.  
When Lorna required more care, she moved to Ina Grafton Gage Home and then Crescent Park Villa in Moose Jaw and then in 2015, moved to Central Butte Regency Manor.
She was predeceased by her parents; husband, Bruce; son, Kenneth; grandchildren, Rodney Harms and Nadia Aitken; sons-in-law, Abe Harms and Bob Weberg; sisters: Kathleen, Winnifred (Doug) Shea, and Florence (Murt) Charlton; brother, John (Nora) Cornish; sister-in-law, Margaret (Sandy) Martin; and brothers-in-law: Donald, Clark, Jim Aitken and Harry (Lynn) Aitken.  Lorna is survived by her children: Sylvia (Henry) Harms, Keith (Noreen) Aitken, Joy (Bob) Shaw, Mary (Larry) Levsen, Pat Aitken, John Aitken (Sandra Fowler) and Lorie (Hugh) Kurz; daughter-in-law, Shirley Aitken; 23 grandchildren, 48 great-grandchildren and 24 great-great-grandchildren; and many nieces and nephews.  She is also survived by her sisters-in-law: Helen Aitken, Doreen Aitken, and Janet Grasdal. 
Our thanks to Central Butte Regency Manor staff for the wonderful care provided to Mom over the last years. 
Due to COVID-19 restrictions, a Private Funeral Service will be held.  Friends and Family are invited to view the service virtually on Friday, October 8th, 2021 at 1:00 p.m. by going to www.moosejawfuneralhome.com/webcast/.  In lieu of flowers, donations in Lorna's name may be made to Regency Manor Auxiliary, PO Box 361, Central Butte, SK S0H 0T0 or Eyebrow Seniors.  Arrangements are entrusted to Moose Jaw Funeral Home, 268 Mulberry Lane.  Andrew Pratt Funeral Director 306-693-4550