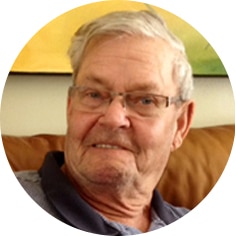 GLENN HERBERT AIKENS
July 26th, 1935 – August 7th, 2014
Glenn passed away unexpectedly in the Moose Jaw Union Hospital from complications with diabetes.  He lived and worked his entire life in Central Butte and was extremely proud to be from this community.  Glenn is survived by his children: Curtis and his wife Jaqui of Adelaide, Australia, Lois and her husband Garth Fowler of Saskatoon, SK, Randy and his wife Dana of St. Albert, AB; his grandchildren: Brody Fowler of Saskatoon, SK, Breanne (Fowler) and her husband Kevin Martin of Saskatoon, SK, Jesse Aikens of St. Albert, AB and Cole Aikens of St. Albert, AB; and special great-granddaughter, 4 month old Payton Martin of Saskatoon, SK,  his new "little sweetheart".  Glenn found great joy in being a grandpa and a great-grandpa and loved to spend time with his grandchildren whenever he could.  He is also survived by his ex-wife and close friend Gayl Aikens; brother, Cliff; sisters, Nora Meek and Joyce Jennings; special nephews: Lorne Houseman, and Gord and Karen Houseman; great-nephews: Joel, Josh and Jared Houseman; as well as numerous nieces, nephews and other family members.  The family would like to thank the Central Butte community for being such a great place for Glenn to call home.  A Celebration of Glenn's Life will be held on Friday, August 15th, 2014 from 2:00 to 4:00 p.m. at the Central Butte Senior's Center.  A private family interment will be held at Central Butte Cemetery.  In lieu of flowers, donations in Glenn's name may be made to The Canadian Diabetes Assoc., 917A Albert St., Regina, SK S4R 2P6 or the Central Butte Senior Men's Hockey Team.  Arrangements are entrusted to Moose Jaw Funeral Home, 268 Mulberry Lane.  Gary McDowell, Funeral Director 306-693-4550.