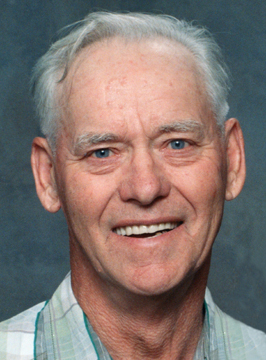 September 24th, 1936 – January 16th, 2023
With deep sorrow we announce the passing of our beloved Bernhart Denien Adrian on Monday, January 16th, 2023.  In 86 years of living, Bernhart was many things to many people.  Not only was Bernhart a devoted husband, dad, grandpa, brother, uncle, son, nephew, friend and neighbor, he was a strong, capable, brilliant man whom many people relied on for advice, and help.  For 60 years, Bernhart's equally strong, capable and loving wife, Laura, was at his side, helping him with farming operations while raising their four children and providing the best homemade meals any man could ever hope for.  Until his final breath, Laura was at his side, with a kind of selfless devotion that can only be explained by true love.  
He was predeceased by his parents, George William Adrian and Eleanor Thea (née: Dokken); brother, Vern; brother, Dennis; infant grandson, Ashton; brother, George; brother, Glen; and sister, Kathleen Toovey.  Bernhart is survived by his loving wife, Laura; his children and precious grandchildren: Rhonda (Paul), Charmaine, Jason, Tyson, Austin; Randy (Susan), Nikki, Rachel, Braeden, Adam; Shelley, Avery, Trey; Kevin (Whitney), Drew, Kayla, Parker, Abby; siblings: Ivy, Joan (Ron), Vivian (Jerry), Gary (Bonnie), Keith (Sherry), Donald (Janice), Eleanor (Wayne), and Barry (Phyllis); as well as many precious nieces and nephews.     
On September 24th, 1936 in the small hamlet of Chaplin, SK, Bernhart was fourth born to George and Eleanor Adrian, who went on to have a total of 14 children.  Bernhart grew up attending Thistledown School and spent most of his time at the family farm south of Secretan.  Following the sudden passing of his father, Bernhart at age 17 quit school to take over the family farm and help his ma with his younger siblings.  While Bernhart's work life included digging graves, cutting horses, lumberjacking, and welding, it was farming that he most enjoyed.  Bernhart's extraordinary mind, strong work ethic and boundless determination allowed him to turn the family farm into a thriving business that operated for 50 years.  After long days of work, Bernhart could be found reading the Western Producer and closely following agriculture trends, world events, history and politics.  Bernhart's knowledge and wisdom was practical and philosophical and truly impressive.  His humble, down to earth ways led him to conclude that he was not brilliant, he simply had a healthy dose of common sense.  The many people who called upon Bernhart for problem-solving assistance knew his brilliant mind was anything but "common".  He even invented tools to assist his work including a cultivator (before cultivators were available for purchase), and a one-man Gyproc scaffolding system.  
When not working, Bernhart enjoyed many activities including hunting, fishing, story telling, playing guitar, singing, and visiting with family, friends and neighbors.  Bernhart loved his children deeply and often entertained them with his stories, slight of hand tricks and mind teasers.  He also made them cocoa and popcorn every Saturday night before the ritual watching of Hockey Night in Canada.  With great love for you Bernhart, we say . . . we'll be seeing you soon and until that day, we will be loving you, missing you and remembering you.
The Funeral Service will be held on Saturday, June 17th, 2023 at 1:30 p.m. in Moose Jaw Funeral Home with Pastor Marvin Seaborg officiating.  Those not able to attend may view the service virtually by going to www.moosejawfuneralhome.com/webcast/. As an expression of sympathy, donations in Bernhart's name may be made to the Heart and Stroke Foundation of Saskatchewan, Unit 26 – 1738 Quebec Ave, Saskatoon, SK S7K 1V9.  Arrangements are entrusted to Moose Jaw Funeral Home, 268 Mulberry Lane.  Michelle Ellis, Funeral Director 306-693-4550