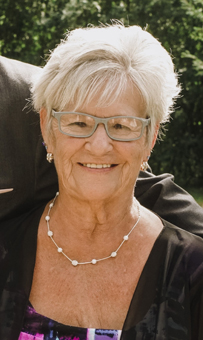 Elizabeth "Beth" Anne Adams
It is with great sadness that we announce the passing of our mother, Elizabeth "Beth" Anne Adams on Thursday, September 23rd, 2021.  Beth was born to Fred and Betty Adams on June 25th, 1955 in Moose Jaw, SK.  She was predeceased by her parents, Fred and Betty Adams; sister-in-law, Janet Adams; and stepson, Dean Thirsk.  Beth will be lovingly remembered by her children: John, Rene, Sarah (Mike), and Thomas (Kristen); stepchildren: Rhonda, Carrie, Lonnie (Joe) and Farrah (Curt); as well as many grandchildren.  Beth also leaves to mourn her brothers: Eric, Bill (Jane), Rob, and Ron; and numerous nieces and nephews. 
Beth grew up in Moose Jaw, SK and attended Prince Arthur and Peacock Collegiate.  After graduation she spent her time raising her children, working at the greenhouse, and later in life followed her passion and became a Licensed Practical Nurse.  Beth will always be remembered for her love for her children and grandchildren.  She was known for her big heart, her honesty, making people laugh, her spotless house and her beautiful yard.   A special thank you goes to her many amazing friends who cared for her in the last few years of her life. 
We love you Mom.
The Funeral Service will be held on Saturday, October 2nd, 2021 at 1:30 p.m. in Moose Jaw Funeral Home.  Celebrant Dave Foley will officiate and interment will take place at Rosedale Cemetery at a later date.  In lieu of flowers, donations in Beth's name may be made to The Moose Jaw Humane Society, Box 1658 Station Main, Moose Jaw, SK S6H 7K7. Those unable to attend may view the service virtually by going to www.moosejawfuneralhome.com/webcast/.Arrangements are entrusted to Moose Jaw Funeral Home, 268 Mulberry Lane.  Michelle Ellis, Funeral Director 306-693-4550