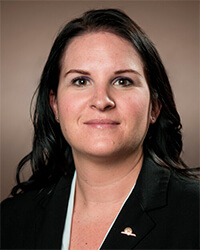 Michelle Ellis
Director
Michelle was born in the Dinsmore area and is the youngest child with two older brothers.
She became a Primary Care Paramedic (PCP) in 2000 and followed her love of medicine, Health Care and helping families.  She worked in North Battleford, SK before settling in Moose Jaw, where she continued to work with the Moose Jaw EMS from 2002-2013.
Michelle's passion for families continued when she chose the Funeral Profession as a career and began working with Moose Jaw Funeral Home in January 2014.  Michelle graduated from the Polytechnic Funeral Program and became a Licensed Funeral Director in August 2016.
Family life became a bit busier in 2012 when Michelle and her three daughters, Emma, Avery and Ella, met Jason Fowlie and his daughters, Ashley and Brooke, and they reside in Moose Jaw.  Michelle and Jason keep very busy with the kid's softball, gymnastics, and school sports.  They enjoy spending time on the water at Buffalo Pound in the summer and cheering on the Moose Jaw Warriors hockey team in the winter.
Michelle became a member of the Moose Jaw Rotary Club in 2018.