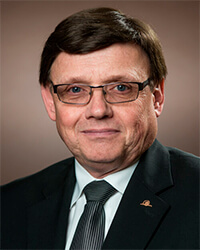 Gary McDowell
Director
Gary was born in Moose Jaw, SK and was raised in the Grayburn / Caronport districts.  Gary attended elementary and high school at Caronport and A.E. Peacock in Moose Jaw.  Gary farmed in the Grayburn district from 1981-2000 with his father Wilmer, mother Lenore, and brother Wayne.  He and his brother Wayne have owned and operated Way – Gar Lawn and Garden Service in Moose Jaw since 1992.
Gary's funeral career started at Parkview Funeral Chapel in 2004 working as an attendant.  Gary graduated from the Canadian College of Funeral Service in May 2007 and became a Licensed Funeral Director/Embalmer later that year.  In September of 2007, he joined the staff at Moose Jaw Funeral Home.
Gary and his wife Tracy reside in Moose Jaw and have three grown daughters: Ashleigh, Danae (Taylor) Epp (grandson, Noah), and Aimee.   Tracy is employed by Saskatchewan Health Authority (formerly Five Hills Health Region) as a medical transcriptionist at the Dr. F.H. Wigmore Regional Hospital in Moose Jaw.