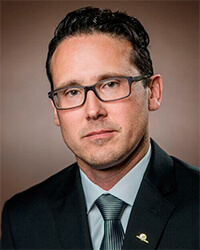 Andrew Pratt
Director
Andrew Pratt joined our staff on January 1st, 2017.  He obtained his Funeral Directors/Embalmers license through the Canadian College of Funeral Service in 2019.  He is a proud dad of two wonderful and amazing children, Duncan and Izzy, which make up the family home.  Born in 1977 in rural Manitoba, many communities were considered home as his father worked in the banking industry.  After graduating high school Andrew began his studies in graphic design, and for nearly twenty years he helped clients advertise their products/events through print media.  After some years in Manitoba he came west to Moose Jaw and continued his trade.  Then an opportunity came along to join the staff at Moose Jaw Funeral Home.  Helping those in their time of need.  It was that philosophy that guided Andrew to his new career in the funeral profession.
When out of the office you'll find him spending time with his family, going on road trips or trekking off on some remote hiking trail in Grasslands National Park East Block, where he has no problem disappearing into the back country. 
Andrew continuously pushes himself to further develop his skills. It is a great honour and privilege for Andrew to serve you and your family when the time/need shall ever arise.
"Nobody cares how much you know, until they know how much you care."
                            Theodore Roosevelt