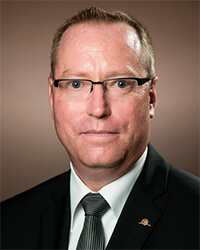 James Murdock
Director / Owner
Family history and influence certainly had a huge impact on drawing James to a career in funeral service.  It was his uncle, Rae Murdock, then active owner of the Westwood Funeral Chapel in Saskatoon, who introduced James to the need to serve families.  After completing grade 12 from Central Butte High School in 1989, James accepted an apprenticeship position with Ross Funeral Service in Assiniboia, then transferred to Parkview Funeral Chapel in 1993.  He convocated in 1994 from the University of Saskatchewan as a licensed Funeral Director/Embalmer.  Opening Moose Jaw Funeral Home in 2006, he is pleased to provide families with a fully locally owned and operated choice.  James and Bev enjoy being involved in the community with their daughters, Sydney and Jenna.    
James' active role and dedication to the community is best illustrated by the volunteer roles he currently holds or has fit into his life during the past decade or so:
Chair of the Moose Jaw Health Foundation (September 2013 – Current)
 Board Member of the Moose Jaw Health Foundation (September 2009 – September 2013)
 Board Member of the Providence Place Foundation Inc. (2012 – Current)
 Coach – Moose Jaw Minor Girls Fastball (2007 – Current)
 Coach – Timbits Soccer (2006 – 2008)
 Various roles in the Moose Jaw Lions Club including President, Treasurer, Director and member, (1994 – 2012)
 Organizer for the White Cane Christmas Supper (2002-2012)
 Board Director of the Moose Jaw Chamber of Commerce (1998-2000)
 Member – St. Aidan Anglican Church (Current)
 Member – Doric/St. George Masonic Lodge #71 (Current)
 Member – Moose Jaw Shrine Club (Current)
 Member – Moose Jaw Businessmen's Club (Current)
 2016 Recipient of the Moose Jaw & District Chamber of Commerce Citizen of the Year  
 James was also the initiator and organizer of the annual 'A Night With The Riders' charity event, in which $72,000 was raised during 2009-2012 for the Lions Foundation of Canada to purchase guide dogs for residents of Saskatchewan.